As the time passes, your floors lose their initial shine and smoothness. Yet, rushing to install a new flooring solution without having tried our floor polishing procedures is simply an unjustified expense. In order to restore the great condition of your floor, you need professional floor polishing service, carried out by a reputable company. No matter if you have hardwood, marble, tiles or concrete flooring at your home, our flooring technicians are prepared to bring back its excellent state. We cover South West London and Surrey and our high standards of service made us a preferred choice for many homeowners. Do you want to become one of our satisfied customers?
Don't hesitate but call us on 020 3677 5447 when you need a trouble-free floor polishing procedure delivered at cost-effective rates!
Why Our Technicians Are Your Safest Bet?
Our floor sanding team owns vast experience in the industry. Our company confidently offers highly effective, trustworthy and long lasting services to our customers. To achieve an immaculate outcome on the flooring site, our technicians use advanced contemporary machinery. Thus we deliver superior quality of floor polishing services through our effective approaches.
An interesting fact is that in 1969 Eugen Laegler invented the belt sander in Germany. 90% of the flooring area can be reached with the belt/ drum sander. Before that, floors were scraped manually by dragging scraper blades across the floor.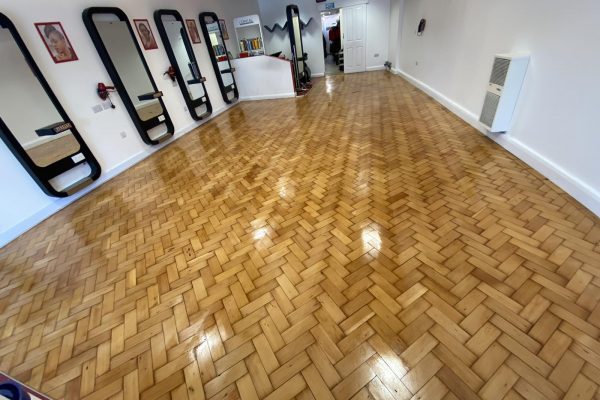 Advantages You Get by Choosing Our Service
Our current customers can confirm that we would never deliver a poor quality or hastily performed floor polishing service. Quite the opposite – the successful completion of the project consists of several steps:
Our flooring experts will prepare the floor and remove the deepest scratches and stains. That's particularly applicable to hardwood floors but if you have any other type of flooring, it will be inspected for damages and these will be promptly fixed.
The next step is buffing the floor. Even if it is not applicable to your flooring type, you may rest assured we will use the best tools and techniques to give your floor the desired shine and removing all stains and scratches.
When you book a service with us, you will be asked about your flooring type, so our experts have the equipment needed when they arrive on site. Have in mind that it is recommended to invite our technicians for a pre-inspection so they can determine the condition of your floor.
Leave the Dull Floors In the Past
All too often people postpone the professional floor polishing procedures as the variety of companies offering such services is a bit confusing. Many homeowners are not sure whether they will get their money worth. With Hyper White you can rest assured that every penny is wisely spent!
We never compromise with the quality – we don`t promise you the cheapest prices, we offer you the best service worth of your money! For more information and a price estimate, call us at your convenience on 020 3677 5447. We are available 7 days a week to discuss your timber floor needs!